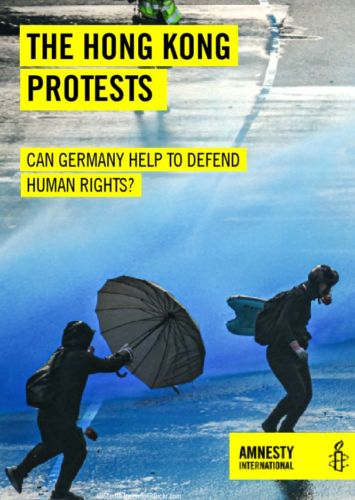 The Hongkong protests – Germany caught between economic interests and the defense of human rights?
CAN WE ONLY WATCH?
When millions of Hong Kong people took to the street in summer 2019 to get an extradition bill to mainland China revoked, a long-standing tentious situation between the special administrative region of Hong Kong and the central government in Beijing became apparent to the world-wide public.
Now, with the bill revoked, protests calling for wider reforms continue with no apparent solution in sight.Governments and activists struggle to find an adequate response to the human rights demands of the protests.
Can Germany help to defend human rights?
A panel discussion (held in English) with
Kelly Liu (journalist from Hong Kong),
Dejun Liu (human rights activist from China), and
Kathrin Kinzelbach (Professorship International Politics of Human Rights, FAU Erlangen).
Moderator: Jutta Schnabel (Amnesty International, Erlangen)